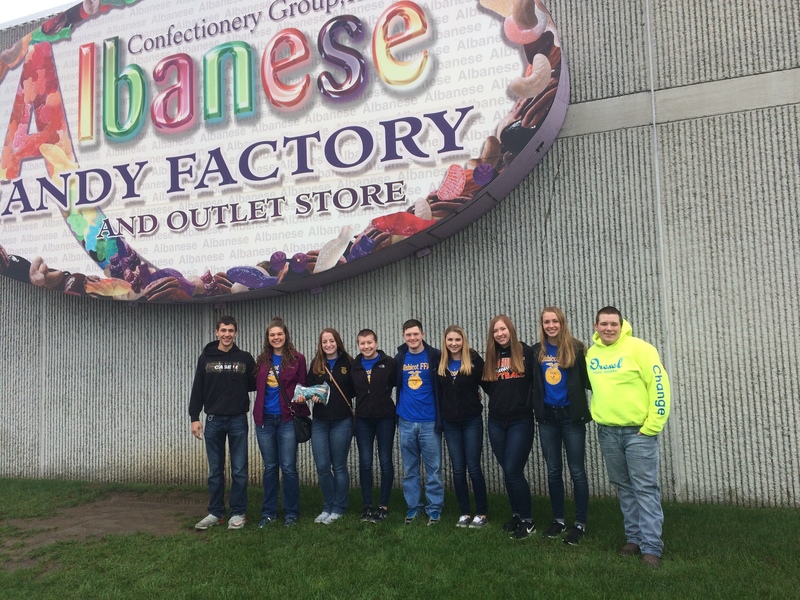 Our nine students at National FFA Convention continue to work together knowing individually they can but together we will at convention and beyond. Yesterday we were able to tour the famous Albanese Candy Factory as well as Subaru of Indiana. The candy company produces millions of gummies daily and was a great showcase of where manufacturing, chemistry and food science unite. Subaru of Indiana hosts over 5,550 skilled jobs and over 1000 robots to manufacture three Subaru models with 800 produced each shift. Students were able to learn how leadership and teamwork can lead to pay and incentive bonuses in a corporate setting all while learning how cars are made.
They then explored one of the few remaining horse farms in Indy. Before visiting the National FFA Career Expo that has a variety of new technology along with college opportunities and career pathways from over 500 colleges and employers. The expo also includes some freebies, speakers and celebrities including The Incredible Dr. Pol and WI cheese and custard from Culvers. All this is possible because 100 years ago the Smith Hughes Act was passed which allowed students across the county to be taught career and technical education including agriculture, FACS, tech ed and business. Students are able to celebrate success of our chapter and stellar members across the nation during award sessions and hear from inspirational speakers including Lela Ali.In addition we enjoyed some evening entertainment such as seeing Rascal Flats in concert and attending an Escape Room.
Thank you for your ongoing support of our students during this incredible event! We know that them being in Indy takes time away from classes, family, practice and other obligations. Yet we know that the leadership, networking and passion shared when 60,000 of our Nation's strongest youth unite in a see of blue corduroy with shared goals for agriculture and themselves is a life changing opportunity.